Binance doesn't think the US has jurisdiction over its crypto exchange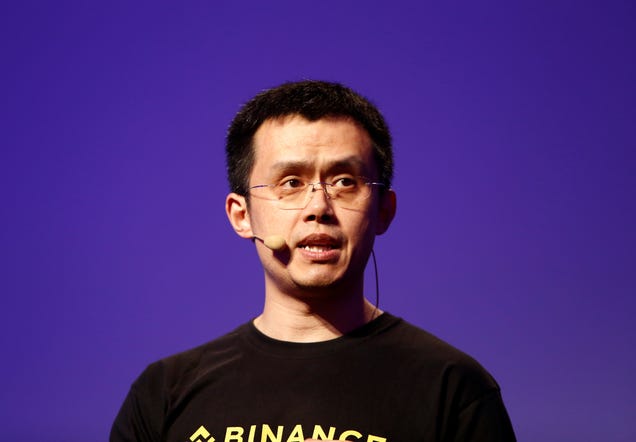 Binance CEO Changpeng Zhao is seeking the dismissal of a lawsuit by the US Commodity Futures Trading Commission (CFTC), arguing the regulatory body has exceeded its jurisdiction.
Binance—the world's largest cryptocurrency exchange—filed a motion in Northern Illinois District Court that accuses federal regulators of operating extraterritorially. The CFTC is suing Zhao's company for allegedly selling illegal cryptocurrency derivatives to retail investors in the United States.
The lawsuit argues that US regulators have failed to establish jurisdiction over the company and that the attempt to rein in Binance is part of a pattern of US regulators overstepping their authority. Zhao is Canadian and the company is based in the Cayman Islands.
"The CFTC seeks to regulate foreign individuals and corporations that reside and operate outside the United States—outstripping the limits of its statutory authority and treading on deep-rooted principles of comity with foreign sovereigns," lawyers for Binance wrote.
Additionally, the lawsuit argues that regulators are attempting to apply antiquated commodity trade regulations to the emerging cryptocurrency market, saying that if the CFTC wants a broader scope, it should ask Congress to expand its powers.
The US accused Binance of encouraging its users to skirt the law
The original lawsuit, first filed in March of this year, accuses Binance of encouraging users to to illegally use Virtual Private Networks (VPNs) to buy and sell crypto derivatives outside the purview of American regulators. Some Binance employees even allegedly directed customers to set up shell companies in foreign countries to avoid trade restrictions.
"Binance has instructed U.S. customers to evade such controls by using VPNs to conceal their true location," the CFTC's lawsuit alleges. "VPN use by customers to access and trade on the Binance platform has been an open secret, and Binance has consistently been aware of and encouraged the use of VPNs by U.S. customers."
The CFTC also accused Binance of failing to implement routine processes meant to combat money laundering, failing to register as a futures commissions merchant, and generally doing a bad job of supervising its business. It took particular aim at the CEO's alleged lawlessness, saying "Zhao answers to no one but himself." Read the full lawsuit here.
What exactly is a crypto derivative?
Buying crypto derivatives works like buying a commodity (think gold or soybeans). Instead of purchasing crypto, an investor bets on the likelihood that the cost of a particular cryptocurrency will go up or down.
Trading crypto derivatives is completely illegal in some countries and heavily regulated in the US, due to the potential for market manipulation. Currently, the CFTC mandates a series of safeguards for crypto derivative trading, as well as stringent protections to stave off money-laundering.